Volunteering and Getting Into College
As if being a teenager was not hard enough! There are so many decisions to make all the time… from deciding what classes to take, to how many times you should take the SATs. Should I take classes I am interested in, or classes that I know I will do well in? How many AP classes should I be taking? What am I going to write for my college essay?
Then there is the question of volunteer hours. How many volunteer hours are needed to get into colleges? It would be much simpler if there was one golden answer, but as with many things, it is not that easy or simple.
Pretend you are an admissions officer and you have 5 student applicants who look the same on paper. They all have GPAs over 4.5, each played 3 varsity level sports, and were Student Body President. How do you decide who gets a spot at your University?
While there are many factors that go into that decision, oftentimes they will look for less quantitative means or scores and grades and will look at how the individual has led and made an impact in their community. This is where volunteering comes into play for the college application.
Do I Have To Volunteer?
The first question when it comes to volunteer hours and how it relates to the admissions process of universities is "do I have to volunteer?" The simple answer is, no, typically it is not a requirement like submitting a standardized test score like the SAT or ACT.
The less simple answer: there are going to be questions that will need to be answered in your application, like how you have contributed to your community, or how you have helped your high school be a better place.
Remember, admissions officers are looking to accept students to make their university a better place so they want to see how you have done that while you are in high school. Volunteering is a great way to set yourself apart in the sea of applications.
Recommended Number of Volunteer Hours
So what is the recommended number of volunteer hours? According to Ryan Smith with College Reality Check, "Colleges and universities with a holistic admissions process do not indicate how many hours applicants should have volunteered. However, the general consensus is that between 50 and 200 hours of volunteer work is remarkable."
While at first glance this may seem like an overwhelming number of hours, it equates to just 13 to 50 hours per year of high school. That seems more achievable, right?
To be a standing member of Key Club, a service organization connected to the local Kiwanis Clubs to foster an environment for serving, a student has to commit to doing 50 hours of service at their school or in their community per year — or 25 hours per semester. There are other clubs in high schools like National Honor Society and DECA that also require volunteer hours, and many others.
Your participation in organizations like these can help keep you accountable to reaching the recommended number of volunteer hours.
Does It Matter Where I Volunteer?
Most college admissions officers agree that it does not matter what you did to volunteer, but that you did something to give back to your community.
There are a variety of opportunities out there for high school students. Some of the most convenient ways to volunteer are at your own school helping to tutor students or assist teachers with different projects after school.
Beyond your own school, there are an abundance of opportunities in the community, like:
Helping at a local food bank or animal shelter
Volunteering at local nonprofits that help with voting
Giving time to youth sports
Passing out water for a 5K fundraiser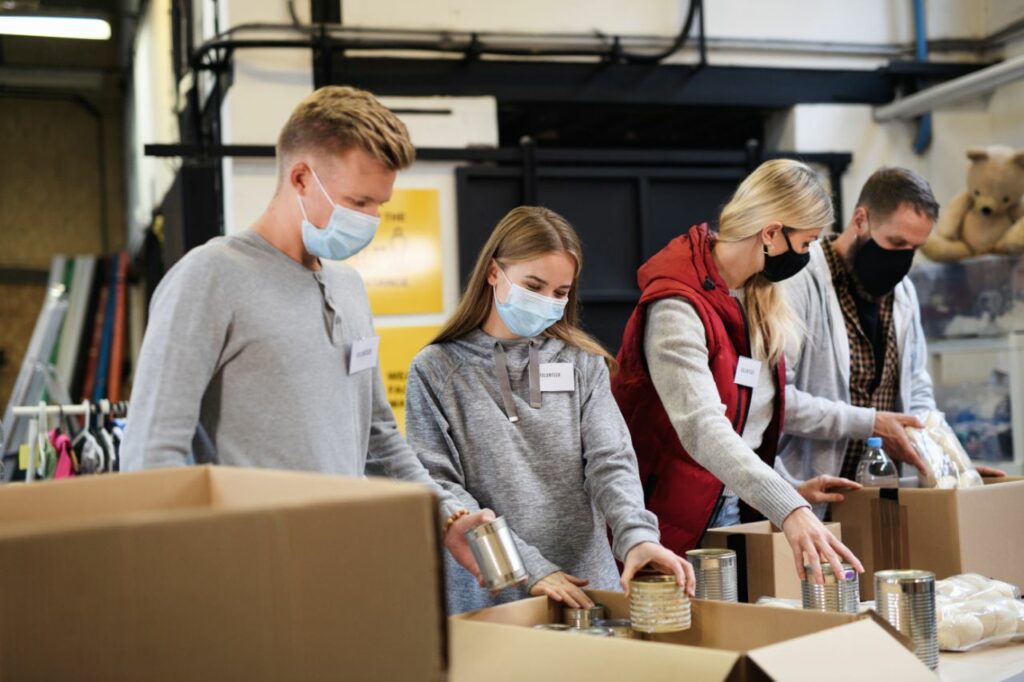 Start Somewhere
The best way to start volunteering is to think about things that you already love and get involved with something related to that.
If you love animals, contact your local animal shelter to see if there is something you can do to help. If you love kids, perhaps you could help coach youth sports or tutor younger children. Many teens are fascinated by the political process and there are many ways to get involved with the election process and volunteering to help different candidates. Perhaps there is a disease or cause you feel strongly about like ending hunger or helping cure cancer. There are many nonprofits who would love to have your help.
As you get more involved, your volunteer time can also provide wonderful leadership opportunities and even job experiences.
According to Mary Ann Barge with Prep Scholar, "Over 50% of admissions officers thought that having a founding or leading role in your volunteer work was the most important quality that you could show them."
Quality Not Just Quantity
There is a big range for what the acceptable amount of volunteer hours are on college applications, but there does seem to be consensus about what admissions officers want to see. They want to know your motivation for volunteering, what you have done to give back, and what you have learned along the way with it.
When asking about ways you have led or made an impact on your local community, pulling from volunteer experiences is an excellent way to showcase what you have done.
Admission officers are looking for ways that you have taken the initiative and committed to an organization and project. Volunteering is a way for students to highlight what they are passionate about and how they have excelled at something. Read our blog about the many benefits to volunteering!
Record What You Have Done
Being able to write and speak about what you have done is just as important as doing it. It is important to be able to capture what you are doing with your volunteer hours.
Imagine if you had a record of what you did starting in 9th grade and then 3 years later when you are a senior you could pull up a report containing the activities you had done, as well as photos. It would be so much easier to write about for experiences for college applications. Our mobile app Givefinity® can help you track your volunteer hours in one easy place.
While volunteering may have started for you as something you felt like you had to do for a check box on a college application, it could easily help you decide what skills you are really good at, give you leadership opportunities, and provide valuable life experiences for you.
College admissions officers do not want to see a big list of volunteer activities. It is more important to them to also see how those activities shaped you and made a difference.
Do you have to volunteer to get into college? While it is highly encouraged, you should volunteer because it will help you in so many more ways than just a college application.